Switch win Award at Energy Show with Steinel Product
Switch were delighted to have been awarded "Highly Commended" in the Best Lighting Product category at the recent Energy Show in the RDS.
Switch were shortlisted out of 60 entrants for Product of the Show for Steinel's TRUE PRESENCE Sensor. This product which is cutting edge in its capabilities, works on the basis that the sensor concentrates on presence instead of motion. This means that the sensor can detect that a person is present, even when they are not moving by detecting micro-movements resulting from the vital movements of a human i.e. breathing!
For more information on this ground-breaking product, just contact one of our team on 01 452 4182 or click here to view the TRUE PRESENCE Brochure.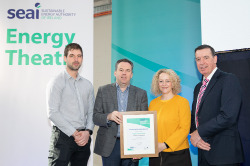 Pictured recieving the award on behalf of Switch are Paul Noonan, MD Switch and Christine Mulhall, Marketing Manager Switch.