Switch hit the road with Hamilton
We are delighted to be hitting the highways and byways of Ireland this April with Hamilton Hamilton Litestat – our trusted supplier of quality electrical accessories.
Over the next few weeks we will be visiting a number of Electrical Wholesalers with Hamilton and their custom built mobile display vehicle.
Come and visit us at one of the locations below. We will be giving demonstrations on Hamilton products including the new and innovative Mercury Lighting and Audio Systems as well as displaying the most popular and newest
ranges of Hamilton Electrical Accessories.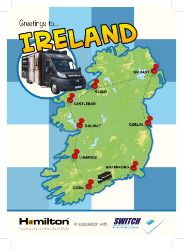 Switch Roadshow Timetable:
Date Wholesaler Details Time
Tuesday 14th April
KELLIHERS ELECTRICAL
Tramore Road
Waterford
Tel: 051-377755
8.30am – 2pm
Wednesday 15th April
MCK ELECTRICAL
Unit PD1, Togher Ind Estate
Pouladuff, Cork
Tel: 021 4975201
8.30am – 2pm
Thursday 16th April
TRADE ELECTRIC
Lower Gerald Griffin Street
Limerick
Tel: 061 417754
8.30am – 2pm
Friday 17th April
FLAHERTY MARKETS
Ballybane Industrial Estate
Galway
Tel: 091 756000
8.30am – 2pm
Monday 20th April
FLAHERTY MARKETS
Breaffy Road
Casltebar
Co. Mayo
Tel: 094 902 6000
2pm – 5.30pm
Tuesday 21st April
CLIFFORD ELECTRICAL
The Lighthouse
Carraroe
Co. Sligo
Tel: 071 9160840
2pm – 5.30pm
Friday 24th April
RICHMOND ELECTRICAL
Unit 17/18 Finglas Business Centre
Jamestown Road
Dublin 11
Tel: 01 8580966
8.30am – 2pm