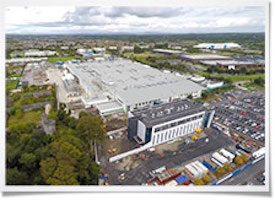 New Build Pharmaceutical R&D facility.
Location: Raheen Business Park, Limerick
Regeneron ALB launched their 41,500 square metre, world-class production facility Industrial Operations and Product Supply (IOPS) facility in Raheen Business Park, Limerick in 2015 to produce medicines for patients around the world.
Switch was tasked with Installing a Cameo Disabled Refuge and Toilet Alarm system.
Solution: ORB-L-RS16-OLED-S
The Orbital RS16 is a sixteen-way combined disabled refuge and disabled toilet alarm system. Stainless steel surface enclosure with black screen print and glazed lockable door. The master panel can answer or call out by pressing the separate call switches and indications for each disabled refuge location.