HSE Primary Care Facility, Tonlegee Road – Lighting Control
Location: Dublin
Lighting Control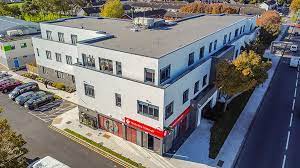 The project, which was completed in was completed in 2020, involved the construction of a three-storey Primary Care Centre, incorporating the HSE primary care teams, GP surgery and some retail units(not involving Switch products) at ground floor level.
The brief was to design, supply and commission suitable lighting system which will provide adequate lighting for the the every day activities carried out within the various elements of the building. Considerations to be taken on board were the type of lighting needed in treatment rooms, requirements for communal areas and back office spaces. While also, delivering a cost effective and environmental approach to the provision of lighting.
This was a two part project for Switch, where we also delivered an Addressable Call System – see below.
Solution: Lighting Control, Steinel IS3360 Dali 2 Sensors, CP Electronics EBR-LCM Pluggable lighting Control Module, Zen DALI 2
Design the lighting system in conjunction with the Electrical Contractor and then Build and Install ZEN DALI2 Application Controllers with Steinel IS3360 DALI2 sensors to provide lighting control with step back lighting in corridors, Treatment Rooms and Offices to have Standalone Dali Controls.