More industry recognition for Switch as we win Product of the Year Award.
Switch are honored to win another award at the recent EIFI, Irish Electrical Industry Awards.
The most prestigious award to be won at the Electrical Industry Awards – PRODUCT OF THE YEAR, was awarded to Switch for their Steinel Product – TRUE PRESENCE SENSOR.

True Presence® is the world's first true presence detector. It reliably detects the presence of a person. No matter what this person is doing: walking, standing, sitting, reading, resting or sleeping. This is real digital knowledge of presence or absence. This is essential information for existing or future building management. Our True Presence® technology is based on extremely precise high-frequency measurements of the detector's surroundings. The presence of humans is indicated when 3-dimensional breathing patterns (micro-movement from vital functions) are detected. The distance of the person to the sensor as well as the direction of movement is registered as well. And all of this is done so quickly and precisely that there is no longer any need to set a stay ON time.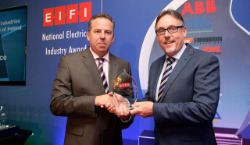 Paul Noonan of Switch Distribution Ltd. wins the Product of the Year 2019 at the EIFI Awards for the Steinel "True Presence Sensor" which was presented by Paul O'Brien, Managing Director of EWL Electric.
For more details on this innovative product, just click here or ring our Steinel Team on 01 452 4182.