Switch Roll Out Energy Saving Lighting Solution in UCD
Switch Distribution selected as main Energy Saving Lighting Supplier for UCD Campus using CP Electronics Products.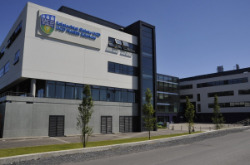 The University's main Dublin campus occupies an extensive parkland estate of more than 130 hectares and offers world-leading facilities.
Brief:
UCD Estate Management recently under took a tender process to introduce lighting controls whilst upgrading lighting to Led luminaires in eight buildings on the campus.
Solution:
Switch Distribution were selected as preferred supplier at project stage. Our Engineers designed and a lighting solution based on CP Electronics Energy Saving Products. As part of a phased rollout out, Switch Engineers supplied & commissioned both the EBDSPIR-PRM PIR & MWS3A-PRM Microwave detectors in two building's during "Summer works"!
Feedback from the University is that they are is already enjoying significant savings above 30% on lighting bills.
For more information on Energy Saving Solutions, just call us on 01 452 4182 or click here to visit the Energy Saving Lighting section of this site.