07 — 11 September 2020…. If you can't go to STEINEL – let them come to you!
Due to obvious circumstances, our Partners, STEINEL cannot hold their Annual Lighting Show. So, they have put together an extensive program of seminars to bring you the latest on a wide range of their most exciting and relevant topics.
20 themes, 200 events — 20 minutes per event. Make your choice.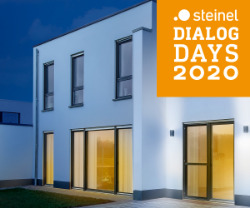 Web seminars, digital workshops, expert discussions and meet & greet events. 4 formats, 5 days, in 6 languages — 200 events around product innovations, sensor technologies, KNX applications, Connected Lighting and much more.
The best thing about it: You can put together your online trade fair programme flexibly and individually. Depending on the time and interest, you simply select the offers that appeal to you most. At the end of the web seminars there will be a Q&A session.
Click here to browse the full programme. It is very easy to register for one or all of the Seminars – again, just click here.
If you see anything that may be of interest you throughout the week – just give any of the Switch Team a call on 01 452 4182 or email us on sales@switch.ie – we will be more than happy to help you.