NEW Hamilton Intelligent LED Dimming Module is on GRID
Our lighting accessories supplier Hamilton is taking LED dimming to the next level with their new Intelligent LED Grid module.
The GRID100LED Grid module monitors and programs itself for best dimming performance when used with the same or mixed branded LEDs. Hence it's designed to be compatible with an extensive range of mains dimmable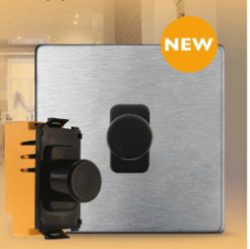 lamps and luminaires, and can be used with a wide range of grid plate designs, making it ideal for retrofit applications.
Paul Noonan, Switch Distribution MD explains: "Based on Hamilton's highly successful Grid-IT range, the GRID100LED has been designed to deliver ultimate flexibility and is extremely straightforward to install. They have spent a significant amount of time during the research and development process focused on ensuring this new Module fulfills and exceeds the LED dimming control expectations of electrical contractors and installers."
The GRID100LED Grid Module allows the dimmer mode to be manually selected: 'Leading Edge' (Max 75W) or 'Trailing Edge' (Max 100W). It can be auto-adjusted to deliver the best dimming performance and minimum/maximum levels can be adjusted without removing the dimmer from wall. For the user's convenience, it can be used as part of a multi-way dimming operation allowing you to switch and dim the lights from multiple points using Hamilton retractive switches or toggles.
Safety always being a priority for Hamilton, the GRID100LED has an in-built thermal overload protection device, and the soft start feature helps extend lamp life to its maximum.
Additional product information: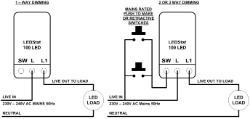 GRID100LED is compatible with the following brands of Grid Plates when used with a Grid Kit: Hamilton, BG, Crabtree, Deta, MK, Hager and GET.
– The Grid Kit comes complete with 1 large and 1 small dimmer knob, grid tops and an installation tool.
– The Grid Kits can be supplied in white or black colour-ways.
– Designed to fit in a 35mm BS4662:2006 flush wall box.
To download GRID100LED product info, please click here
For further information on Hamilton's GRID100LED Grid Module and range of products and services, please call our Switch Team on 01 452 4183.