Learn about Hamilton's dual 2.4A USB double switched sockets
This socket plate allows 2 tablets or other higher-rated smart devices to charge simultaneously from a single plate.
Hamilton's launched their range of dual switched socket plates with twin USB charging points in 2017 – These featured one 1A USB socket for phones and another 2.1A USB socket for tablets. The most recent version is a dual switched socket plate features two 2.4A USB sockets (combined 4.8A) that can be used simultaneously to make charging even easier in this ever-connected society.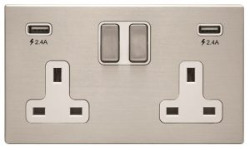 "Consumers want to be connected 24/7 and we've seen the demand for easy charging solutions skyrocket," says Gavin Williams, Hamilton's Marketing Manager. "Our dual switched socket plates have been hugely popular and we anticipate strong demand for our new 2.4A solution that is set to make connectivity even easier."
Supplied as double pole as standard, the socket plate is available in 12 designs, including the popular Linea, Hartland and Sheer designer collections, each having up to 11 stunning finishes.
Currently available on demand from Switch Distribution, Hamilton's dedicated supplier in ROI. For more information on any Hamilton Product, just call our team on 01 452 4182.