Description
Presence detector with 24 m motion detection and 7.5 m presence detection for switching light
Ideal for large offices, meeting rooms or passageways
Easy to mount due to magnetic holder and round design
Push-button input and parallel connection of up to 10 sensors for range extension
Including pluggable cover caps for detection limitation
External approval and measurement according to sensNORM
Overview
With the new motion and presence detectors of the Eco Plus series, the most common sensor-based standard requirements and everyday scenarios in the contract sector can be successfully and easily implemented. The pragmatic entry-level models form a sound basis for intelligent, energy-saving and environmentally friendly light management, taking into account the prevailing daylight. The high-performance infrared sensors convince with reliable 360° detection that can be adapted as required by means of plug-in cover caps in matching colours. The MD-8 motion detector and the PD-8 presence detector detect movements in a diameter of 8 m. The MD-24 motion detector and the PD-24 presence detector detect movements in a diameter of 8 m. While the MD-24 motion detector and the PD-24 presence detector even have a range of 24 metres. The two presence detectors (PD) are additionally equipped with a presence detection function that covers a presence range of 6 and 7.5 m respectively. All sensors of the Eco Plus series are available as flush-mounted, surface-mounted or ceiling-recessed versions.
Easy mounting.
Thanks to the round design and the magnetic mounting of the sensor head, the motion detector is now even quicker and easier to install.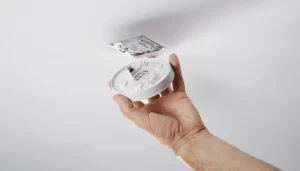 Once the load module has been installed, the sensor head can be placed on the load module with just one "click" by means of the magnetic mounting mechanism and can also be removed again if required. This not only makes initial installation quick and uncomplicated, but also simplifies subsequent adjustment of the detection range using the cover shells included in the scope of delivery. The sensors can be conveniently adjusted via Smart Remote remote control or potentiometer. The new RGB LED allows the sensor to provide even better feedback during adjustment by displaying different colour signals.
Other functions.
The COM1 sensor offers a push-button input for manual override as well as full and semi-automatic modes.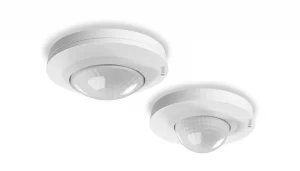 In addition, the presence detector offers a presentation mode as well as 4 hours ON / OFF via the RC 5 remote control or the Smart Remote. For area expansion, parallel connection of up to 10 sensors including L' detection is possible. The PD-24 has a switching load of 500 watts LED (max. 50 pcs. LED) and is suitable for installation heights up to max. 4 m.
Click here for product Data Sheet